too bad it is already sold out. I'm glad they're getting around though. Here's one of their songs in the new Lancome's new ad. I want the purple shade to match my nails, he.
love these two women and they're style is fab!!
They are definitely paying tribute to the retro glam of the 70's. Oversized round glasses are the new beret in french fashion. These were featured in this months´ magazines.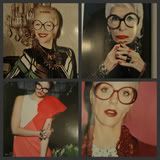 I ordered this dress from a vintage store in Edinburgh knowing it was 20 times too big and immediately thought of Mama Cass. The material and print is so hippy and I´m crazy for florals. I just love it but I am not sure if i should make it into a short dress or a shirt. What do you think? I will refer back to the Rose Bud layout in the Fevriere Jalouse magazine for further inpiration...
http://noirfacade.livejournal.com/1086122.html